With the up-going needs of photchromic window tint film globally, uniteglass sincerely hope you can learn the basic knowledge ,its benefits and make the right option for your residential homes or offices and enjoy it.
What is Smart Photochromic Window Film?

Why Choose Photochromic Window Film for Your Home?

How to Install the Transitional Photochromic Window Film ?

Why Choose Uniteglass Transitional Smart Film?
Ⅰ.What is Smart Photochromic Window Film?
It's a kind of intelligent light-controlled heat-insulation window film,this advanced window tint film uses static cling to easily attach to your window and doesn't use adhesives for a faster, bubble-free placement. It can also be removed with no sticky residue!.
Since the functional mixture coating contains tin dioxide and antimony dioxide, and at the same time is provided with an optical grade PET film layer containing an ultraviolet absorber or coated with a metal thermal barrier film, the ultraviolet barrier rate of the functional film can reach more than 99% The infrared blocking rate can reach 60-80%, and its Total Solar Energy Rejected (TSER)  up to 65% (W2580B).Uniteglass smart photochromic film is offered with 7 layers which are Hard coating ,Substrate(PET),Functional Layer,Lamination adhesive,UV absorption film(PET),Pressure sensitive adhesive,Release film.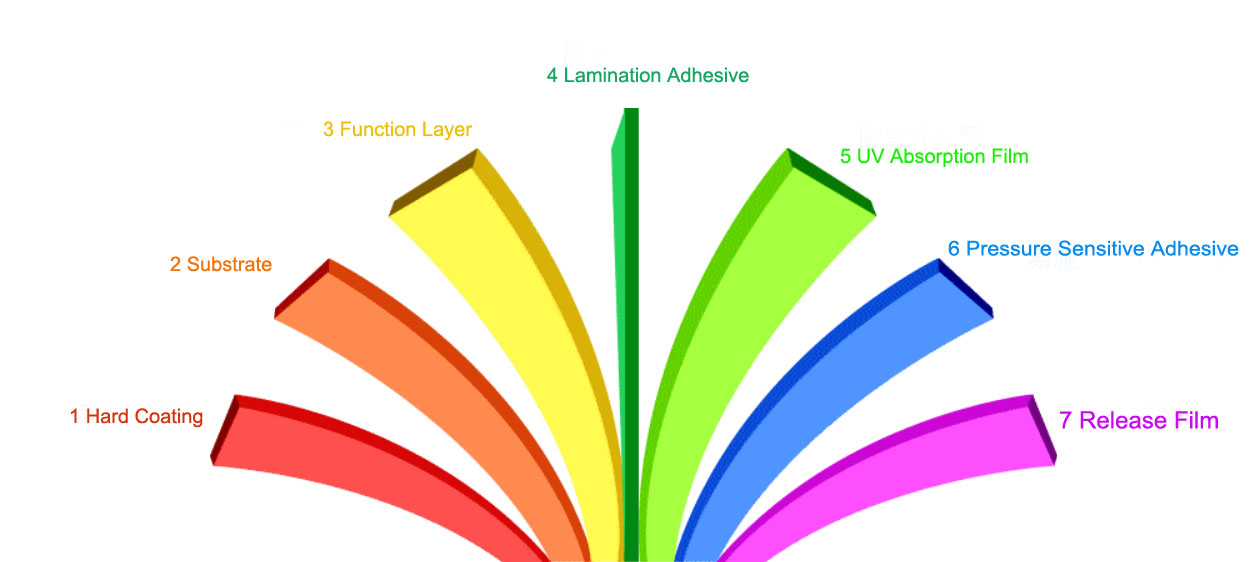 Ⅱ. Why Choose  Photochromic Window Film for Your Home?
Want cooler rooms without losing light? Here's how we recommend you do it. Solar control film comes in a variety of different shades, doesn't have to change how your window looks, and still blocks heat. You have the ability to soften harsh light without ruining views so you'll feel cool and comfortable in your home! It also blocks 99% of harmful UV rays to protect your belongings from permanent sun damage.
Did you know?
Glass is responsible for 48% of the heat entering your home
45% of cooling and heating energy demand is caused by heat gain through windows.
Here are the main benefits of photochromic ceramic window film:
1,Automatically control the visible light transmission:
Have you ever wonder that when you stand at your office window or home window at different time.You and everything in the room are well protected by this photochromic window film, which is becoming darker with less visible light transmission at the noon with the strongest sun light and block 99.9% UV Rays and 80% IR. Let's say when time goes to 5pm which the sunlight is weakening,the window is with more bright as the film visible light transmission goes up. This is the smart technology of this solar film,automatically control the visible light transmission along with sun light. Through the picture below you will know how the photochromic window film works compared to clear glass, normal window film.
2. Block Heat and Save Electricity
When energy from the sun hits your window, some of the solar energy is soaked up and some is reflected by the window, but a majority of it passes through the glass which heats up your home throughout the day. Our smart transition window film have a real 80% rejection rate of full-range IR, which provides a better TSER(Total Solar Energy Rejected) performance, while some other brands only have some single points.
For Uniteglass model (W2580B) TSER up to 65%,up to 30% energy-saving in summer.
3,Reduce glare
A common issue for households is the sun's glare coming through the window that makes it hard to watch TV or do work on digital devices. Uniteglass Smart Tint Films eliminates this issue without having to cover your windows with heavy blinds and curtains.It blocks the bulk of harsh sunlight throughout the day so your screens are always vibrant and clear. Solar control film also helps reduce painful glare that reflects off of outside surfaces like cars, windows, and water. Stop squinting, rotating your screen, or drawing the curtains.
4,Block UV Rays& Sun Fading
Without UV window film,your cars, wood floors, furniture and decorations are all at risk of sun fading from UVA and UVB rays. Ultraviolet radiation is the greatest cause of sun fading in homes, so preserve your valuables by preventing UV light from getting in. Unfortunately, UV light isn't the only culprit when it comes to sun fading. Sun fading is also caused by heat build up, sunlight, and UV light.
Fortunately all of our smart window film products contain the highest levels of UV protection, rejecting up to 99% of harmful UV rays. Which reduce risk of skin cancer. You'll not only enjoy cooler rooms and vehicles but your belongings will last longer and look better.
5,Safety & Security
Uniteglass smart tint window films provide a resilient layers of high-tensile polyester and aggressive adhesives for impact resistant security.
Provides exceptional blast and impact-resistant capabilities. It is harder to shatter and more difficult for criminals to gain entry. Because glass is held intact by the film, it also takes intruders more time to enter windows after they're broken, which buys those inside valuable time to get out or call for help. If windows are broken by accident or during a bad storm, window tinting also helps to reduce or prevent injuries caused by spraying glass because it holds the broken glass in place.
Flying Debris – reduces risks associated with broken glass and air-borne debris when there comes an accident like typhoon or glass aging and self-cracking.
Falling Glass Shards – holds broken glass shards in place, helping to avoid a major hazard for passersby.
Ⅲ .How to Install the Transitional Photochromic Window Film ?
1,Cut the film to the right size.
2,Clean the glass thoroughly,once the film is applied, the stains underneath cannot be cleaned unless you remove the film. To make matters worse, window film removal is also something you shouldn't do on your own.
3,Spray a thin layer of water on the glass surface
4,Before applying, remember to tear off the protective film. (Please stick a tape on the film's corner to peel off the clear backing from the film)
5,Spray a thin layer of water on the adhesive side with water 6,Apply the film to the window ,using a squeegee to remove air bubbles out from between the film and the glass, and then heat the film with a dryer.
Ⅳ. Why Choose Uniteglass Transitional Smart Film?
About the factory:
200,000㎡ of film production facilities

More than 10 sets of Germany magnetron sputtering system and Japanese Nano coating system

100 class dust-free purification workshop

Warranty :8 Years
The Automotive window Tint Film Tests Done:
1,Speed Test
The film will be darker in 30 seconds while explore to the sunshine and it will recover 75% within 5 mins without sunlight.

2,Heat Insulation Test
The temperature of box with film is 29℃ while the box without film is 41 ℃.

3,Radiation Stability Test
Chromatic aberration <1.5,IR rejection aberration<1.5% within 31 days test.

4,High Temperature and Humidity Test
Optical performance keeps steady under high temperature and humidity。(85℃,85%H).

5,Wear Resistance Test
Uniteglass haze value < 2% after 100 circles.

6,Adhesive Performance Test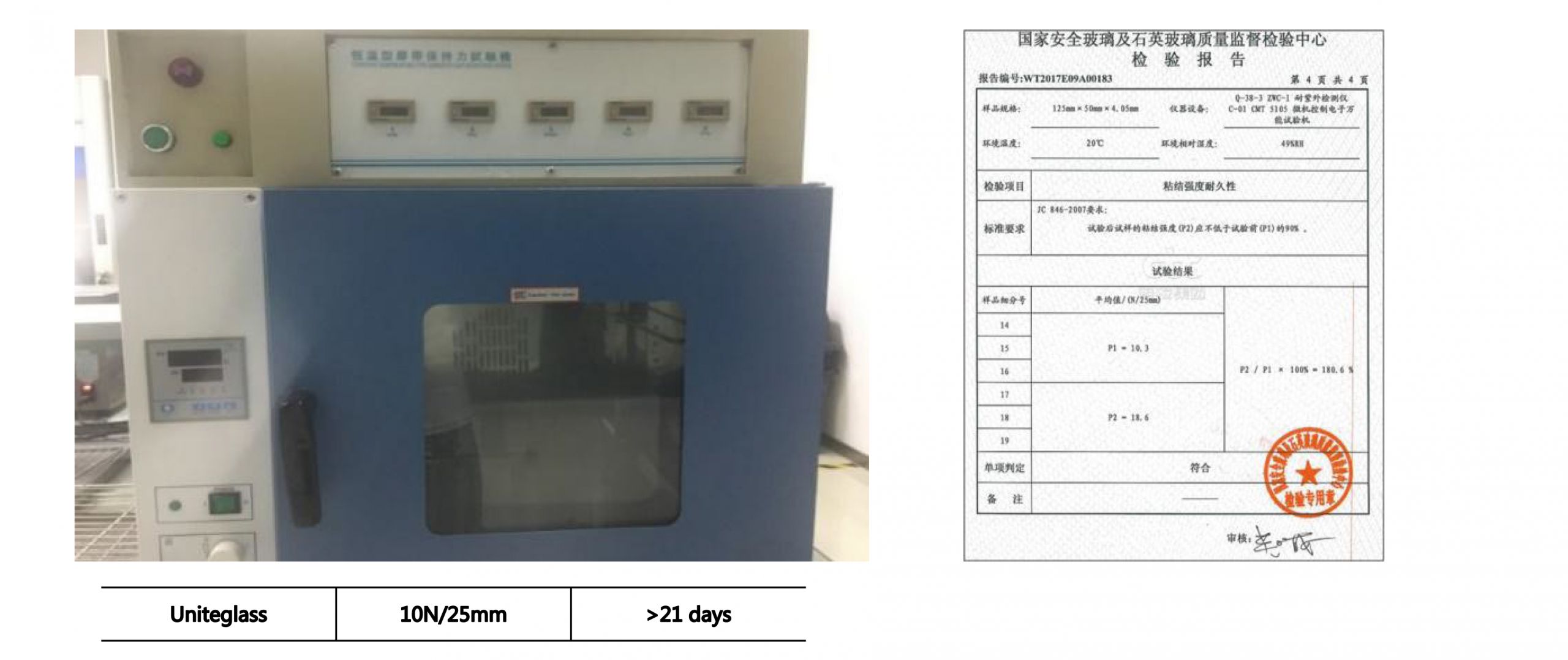 7,VOCs(volatile organic compounds) Test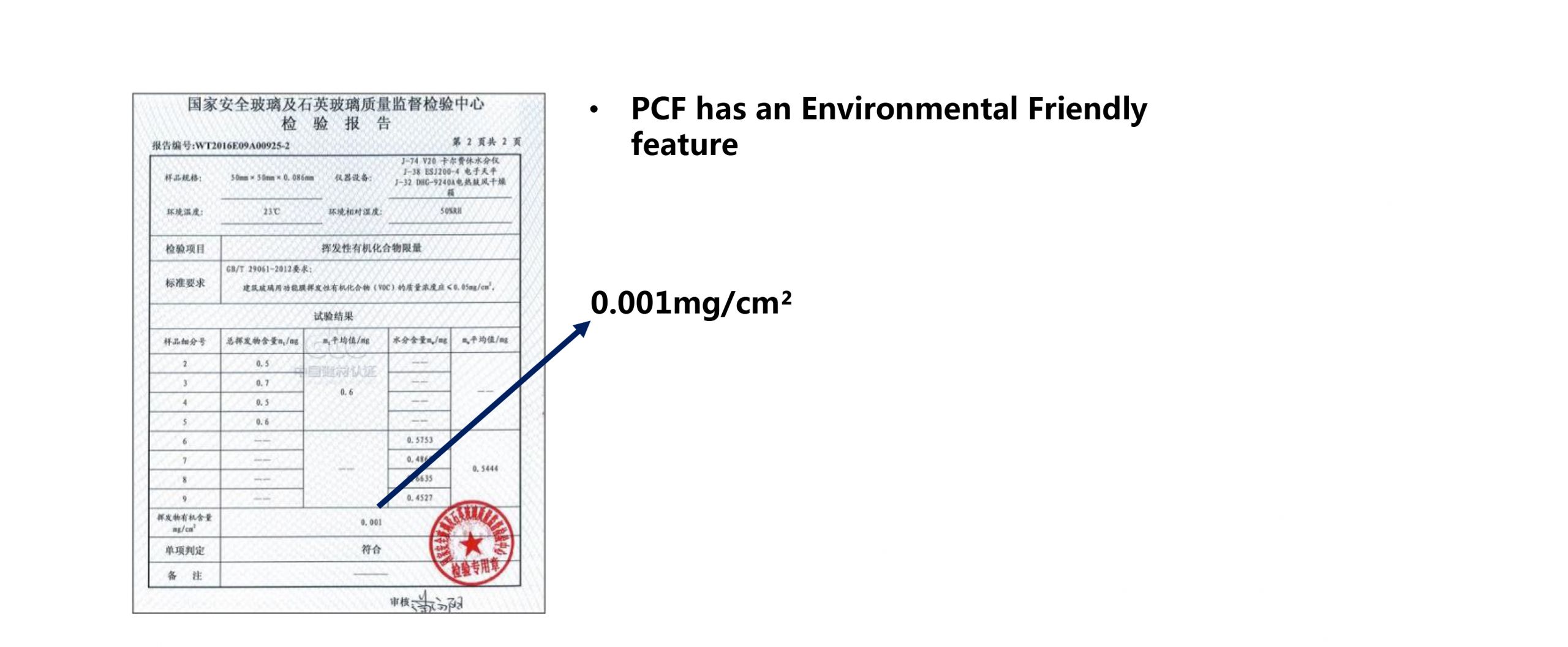 8,Summary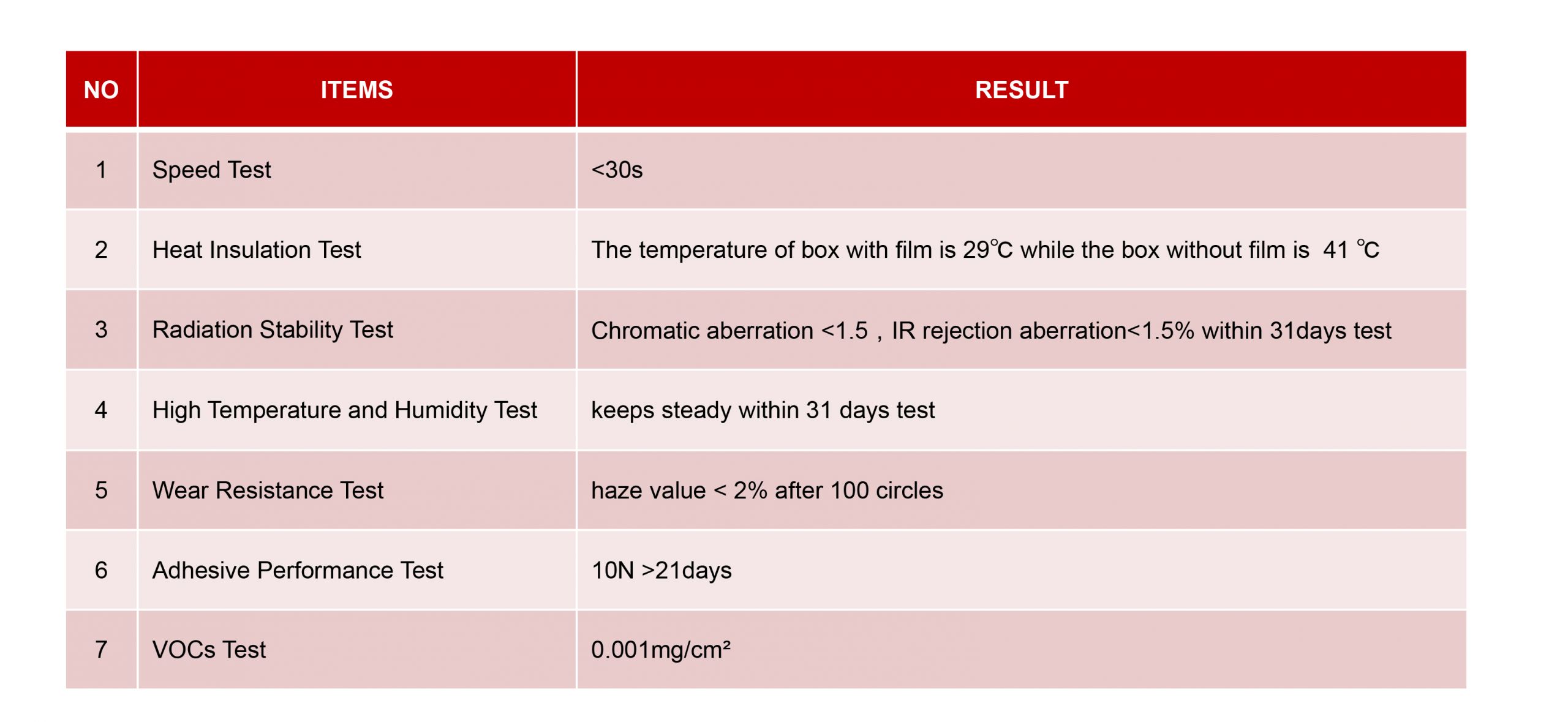 The smart window tint film uniteglass offered is widely used on buildings and cars, which is with 8 years warranty.
Construction: doors, windows and ceilings of commercial buildings, airports, hotels, schools, banks, public places and residential areas, etc.
Vehicle: front , side and rear windows of car, train, aircraft, cruise ships.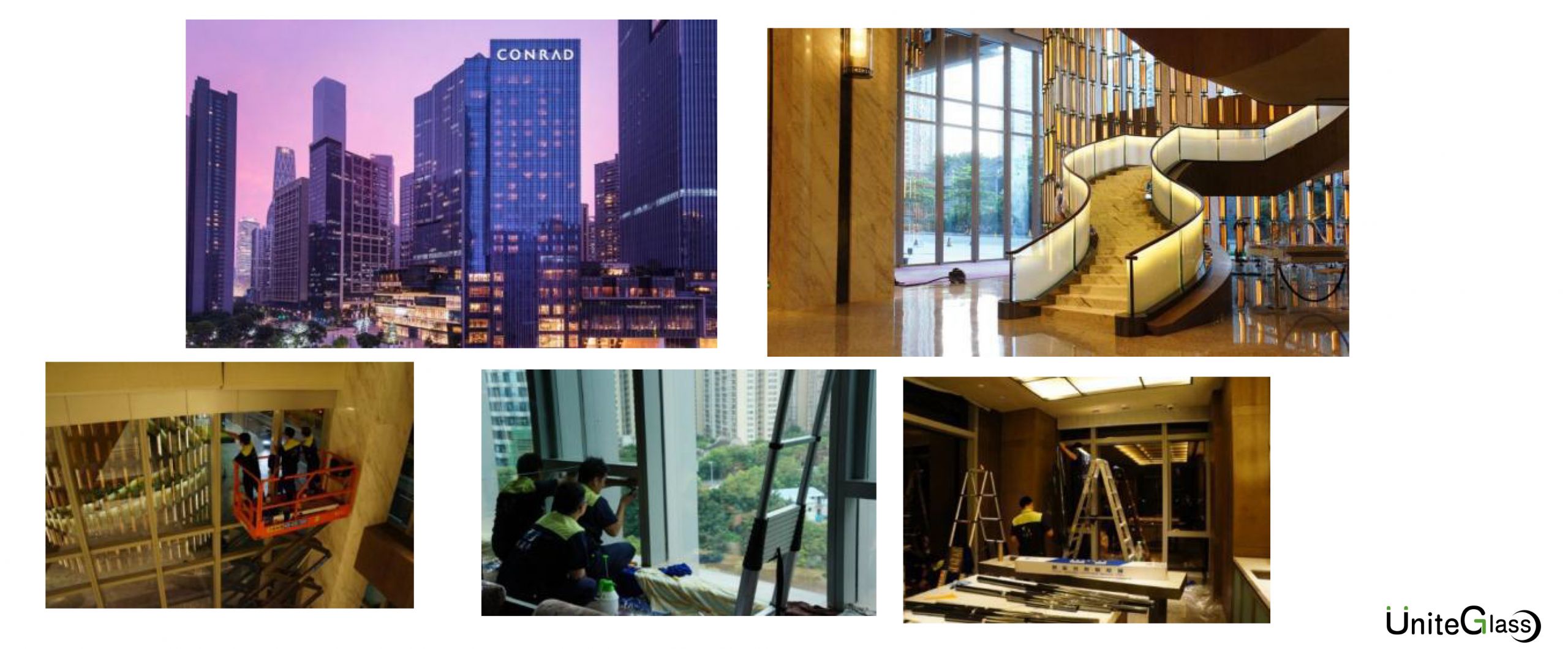 If you're interested to buy roll automotive window tint film phtochromic,pls send us email.